FNB Debit Mastercard®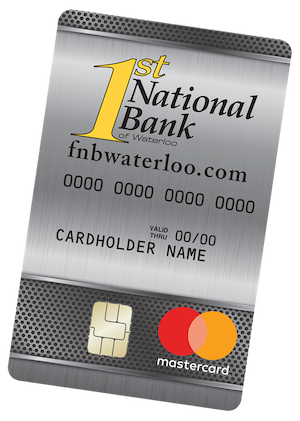 To activate your FNB Debit Mastercard®, call 800.992.3808.
With the FNB Debit Mastercard® you get a safe, convenient way to spend your money.  You can make purchases online, in a store or anywhere MasterCard is accepted.  Funds will be automatically be deducted from your account just like a check. You can also use it to get cash from any of our ATMs.
Now, with our new FNB Debit Mastercard® system, there are more reasons than ever to say "That's MY Bank!"
Debit Card Rewards
You can earn even more rewards with your debit card. With our Debit Rewards Program, you earn one point for every $2.00 spent when you run your card as a credit-based, non-PIN transaction. Reward points can then be redeemed through the uChoose website.   Remember, NO PIN, you win! 
Redeem points for:
Merchandise
Gift Cards
Travel
Activities
Events
And even cash back!
Registering to view or redeem your rewards is easy. Visit our uChoose page for instructions on registration and redeeming your points.
Manage Your Card
Turn you card off and on with CardValet from FNBMobile. "Manage my cards" lets users turn cards off and on, set transaction amount limits, location limits and merchant limits. Customize alerts and controls based on usage, location, and merchant to help protect you from card fraud.  Log in via your First National Bank of Waterloo mobile app and click "Manage my cards" underneath the account listing, under Quick Links.  Swipe at the top to choose which card for the account you wish to manage and select your options accordingly.
Our custom Mobile Banking App is made for Apple and Android. Just click the button below to download it now or search FNB Waterloo in the App Store or Google Play Store.
Pay on the Go!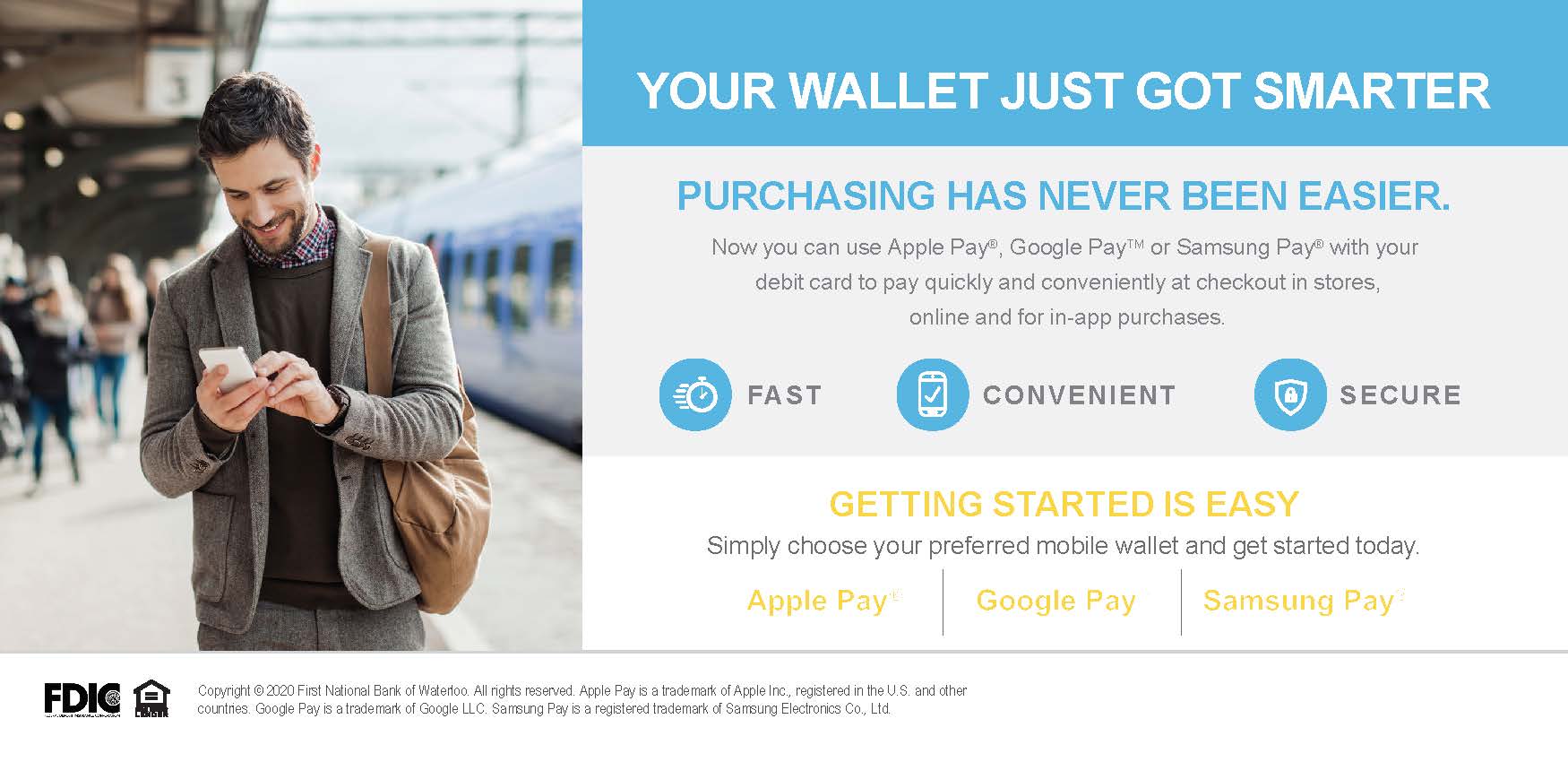 Add your First National Bank of Waterloo debit card for Google Pay®, Samsung Pay® or Apple Pay® to allow you to pay on the go with your phone or watch.  Click here for FAQs about digital wallet.
Spend Your Money on Fun, Not Fees
There are so many better ways to spend your money. For as hard as you work for your money, you shouldn't have to throw it away on surcharge fees. That's why First National Bank of Waterloo offers access to the MoneyPass ATM Network with access to more than 40,000 ATMs without a surcharge fee*. So, not only can you use your card at First National Bank of Waterloo ATMs, but across the nation, too. Plus, MoneyPass ATMs are easy to find. Just search on moneypass.com.  It's all a part of our goal to provide you with connected convenience. Stop in to apply for your First National Bank of Waterloo account with surcharge-free MoneyPass ATM Network access today.
*$1.00 convenience fee for use of non First National Bank of Waterloo still applies.
Instant Issue Cards
Our Instant Issue Cards make getting and replacing your FNB Debit Mastercard® even easier. In just one quick visit, we can print and activate your card, so it is ready to use as soon as you leave the bank.
Round up & Save with FNB EZsave
With FNB EZsave, you can grow your savings without even trying!
When you enroll, we will round up all of your FNB Debit Mastercard® purchases to the nearest dollar amount, and transfer the difference from your checking account to your savings account each day.
Now you can grow your savings with every debit card purchase. Saving has never been EZier. Call or stop in soon to enroll and start saving!