FNB Business Debit Card
The FNB MasterMoney Debit Card gives you a safe, convenient way to spend your money.  You can make purchases online, in a store or anywhere MasterCard is accepted.  Funds will be automatically deducted from your account just like a check.  You can also use it to get cash from any of our ATMs.
Debit Card Rewards
You can earn even more rewards with your debit card. With our Debit Rewards Program, you earn one point for every $2.00 spent when you run your card as a credit-based, non-PIN transaction. Reward points can then be redeemed through the uChoose website.   Remember, NO PIN, you win! 
Redeem points for:
Merchandise
Gift Cards
Travel
Activities
Events
And even cash back!
Registering to view or redeem your rewards is easy. Visit our uChoose page for instructions on registration and redeeming your points.
Pay on the Go!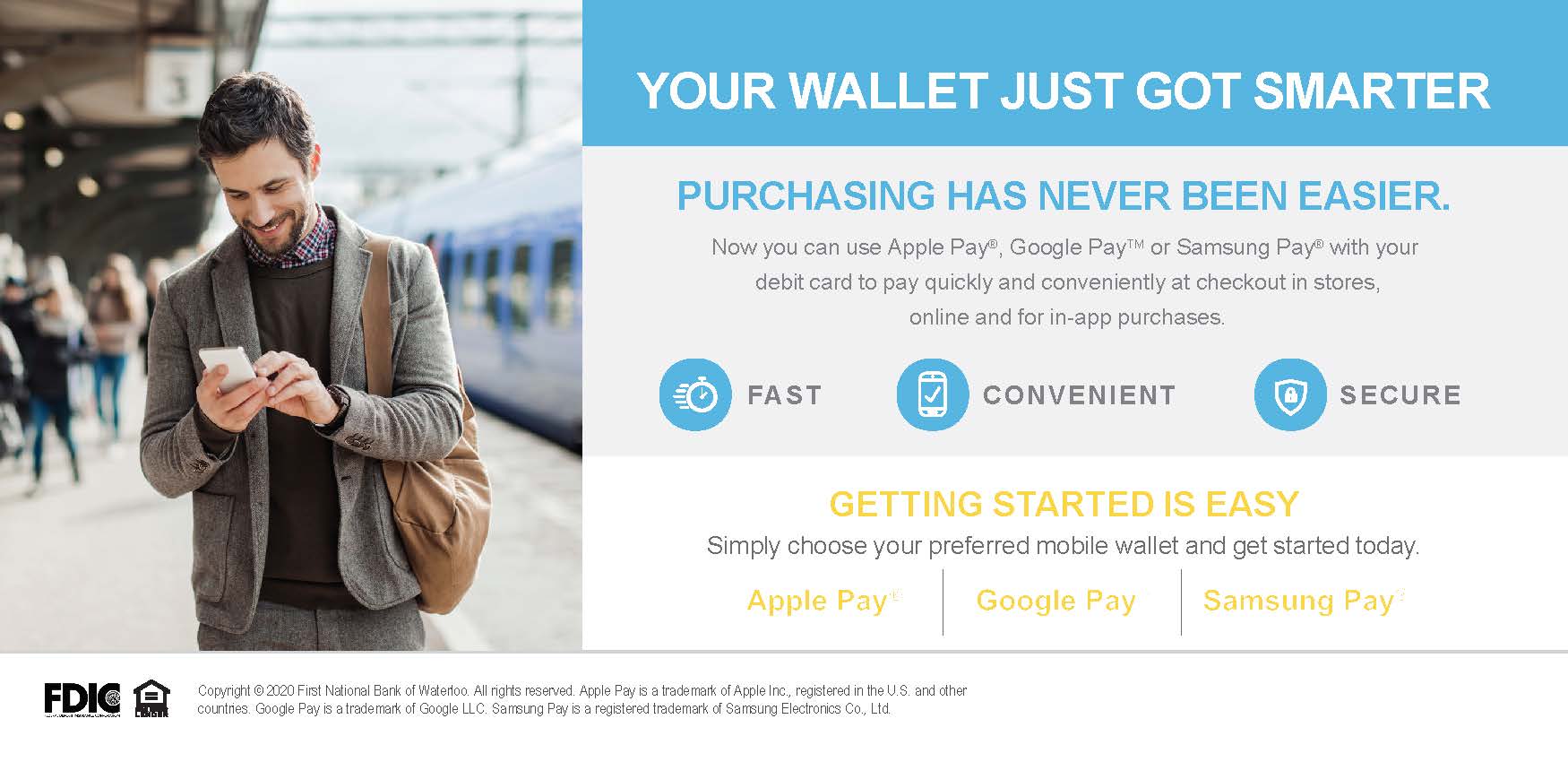 Add your First National Bank of Waterloo debit card for Google Pay®, Samsung Pay® or Apple Pay® to allow you to pay on the go with your phone or watch.  Click here for FAQs about digital wallet.
Instant Issue Cards
Our Instant Issue Cards make getting and replacing your FNB Debit Mastercard® even easier. In just one quick visit, we can print and activate your card, so it is ready to use as soon as you leave the bank. 
---

MasterCard SecureCode is a simple and secure way to pay online. A private code known only to you and your bank, your SecureCode enhances your existing MasterCard account by protecting you against unauthorized use of your card when shopping online at participating online retailers.
Learn more