FNB Classic 55 Club
55 or Better?  Join our Classic 55 Club and take advantage of this special package of financial benefits and social activities!
Click here for more information on the Classic 55 Checking Account or to apply.
Please note: Any notice of change in travel protection premiums, fuel surcharges imposed by carriers and/or attractions will be disclosed at least 30 days prior to tour departure.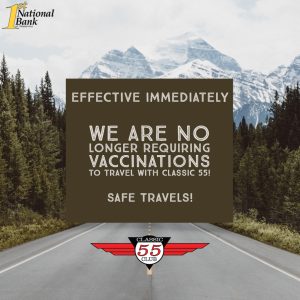 If you currently have a Classic 55 Club account, or want to know more information, fill out the form below!
Classic 55 Submission Form
Take a look at some of our past trips!
Canadian Rockies by Rail – July 2022
In early July, 35 members and guests enjoyed an 8 day trip to the Canadian Rockies.  The highlight of the excursion was a 2 day luxury train excursion aboard The Rocky Mountaineer.  From the moment we set foot in our glass dome coach, we were surrounded by panoramic views, world-class hospitality and delicious locally inspired meals.  Other notable sites we enjoyed were Vancouver, the Calgary Stampede, Capilano Suspension Bridge, Banff & a day trip to the Columbia Ice fields. This amazing trip to western Canada checked off several items from our traveler's "must see" list.
Biltmore Estate & Gatlinburg, Tennessee – November 2022
On November 14—17th our club traveled east and enjoyed a few days in the Smoky Mountains.  We enjoyed an amazing tour of the Biltmore   Estate and took in all the Christmas grandeur! We also enjoyed a trip into the Smoky Mountains National Park, where our step on guide Mark kept us  entertained with stories of the Gatlinburg area. We spent the last evening at Dollywood and     experienced Christmas in the Smokies through shows, lights and a train ride.  We were all definitely in the holiday spirit when we  returned home.
You can see from the photos above that our members love to have a good time when they travel.  When traveling with us you can sit back and enjoy your time with friends!  We always offer a comfortable motor coach that drops you off and picks you up at the door.  We work with some of the best tour companies in St. Louis to provide you with interesting and fun trips.
If you haven't checked out the Classic 55 Club travel schedule for the remainder of 2020 you should!  We have trips that appeal to all travelers.  Whether it is a Broadway-style production, a day trip to St. Louis or a multiple night trip to see the fall colors in Indiana – I am sure we have some location to fit your travel style! 
There are so many other benefits to a Classic 55 Club membership as well.  Classic 55 Club accounts are interest-bearing and receive free checks. There is no monthly service charges with a $100 daily minimum balance.  
For more information about the Classic 55 Club, stop by the Main Banking Center or call me TODAY at (618) 939-6194 ext. 1131 or direct at (618) 504-2363."
Darcy
Classic 55 Club Coordinator