FNB Classic 55 Club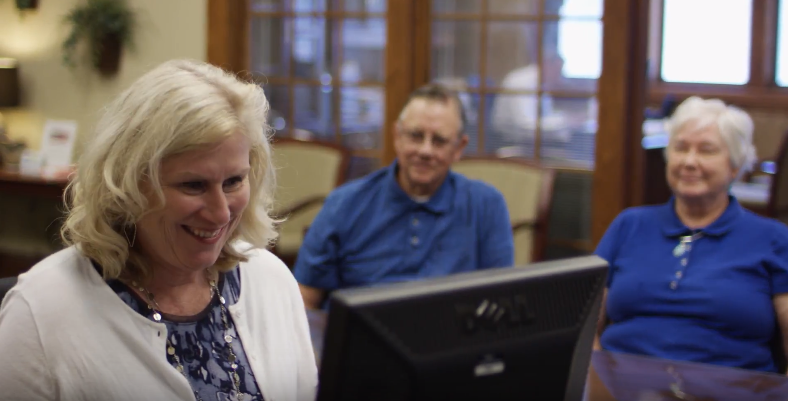 55 or Better?  Join our Classic 55 Club and take advantage of this special package of financial benefits and social activities!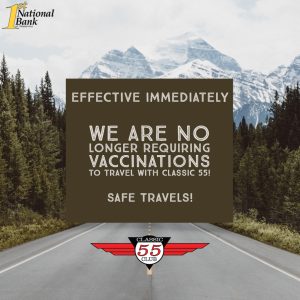 If you currently have a Classic 55 Club account, or want to know more information, fill out the form below!
Classic 55 Submission Form
Take a look at some of our past trips!
Mackinac Island Tour: June 9th – 15th, 2021
The Classic 55 Club set off to explore Michigan by motor coach in June, 2021. 25 members joined us and it was evident they were ready to travel as this trip was sold out in just a few days. Our first day was spent traveling to Troy, Michigan so we could spend a full day at the Henry Ford Museum, Greenfield Village, and visit the Ford Rouge Factory where the F-150s are made.
We then ventured to Mackinac City to board the ferry for a 3 night stay on Mackinac Island. Mackinac Island is unique, a calm oasis without the hustle and bustle of automobile traffic, horse drawn carriages were our mode of transportation for our trip. We stayed at The Island House Hotel, where we enjoyed sitting on the rocking chairs across the street from the harbor. The lilacs were in full bloom and made the island smell so sweet!
Together we toured the island, enjoyed meals at Fort Mackinac and The Grand Hotel, and still had plenty of time to enjoy activities on our own. Horse back riding, riding bikes around the island, tasting (and buying) fudge and shopping were the top activities of our members. The island took on a whole different vibe when all the 'fudgies' (day trippers) left, the downtown area was quiet and the restaurants were filled with locals.
On our way home we stopped in Frankenmuth, Michigan for our last night together. We enjoyed a family style fried chicken dinner at Zehnder's and a river boat cruise on the Bavarian Belle. On the last day, we headed south to Illinois and looked back on a wonderful trip where we met new people, enjoyed beautiful Michigan and made wonderful memories.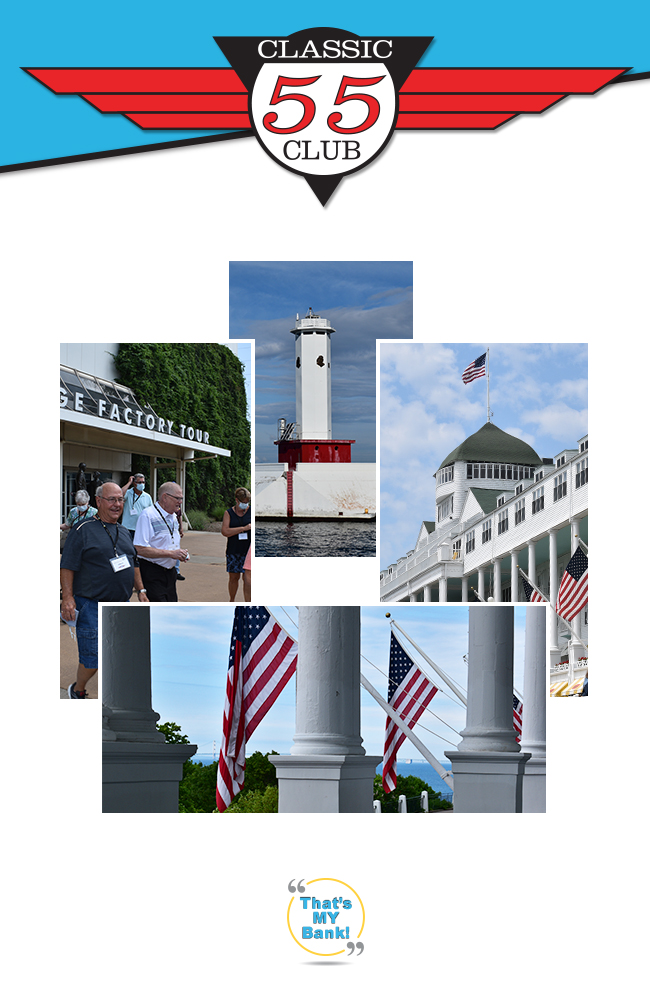 Kimmswick, MO: 12/5/2019
On December 5, 2019, our Classic 55 Club members enjoyed an unseasonably warm day in Kimmswick, MO. Linda Koenig of Gateway Tours provided history of the Anheuser Mansion and how the Flood of 1993 impacted this small river town. We then enjoyed lunch at the famous Blue Owl Restaurant and of course we had DESSERT! The Blue Owl is most famous for its Levee High Apple Pie with Caramel Pecan Topping which has been featured on Food Network. After lunch members had the opportunity to visit and shop over 20 unique shops, many located in historic homes and buildings. We ended our trip by touring the Kimmswick historical society museum and its rotating displays of historical pictures, artifacts and maps and an informational presentation on the history of this resilient river town.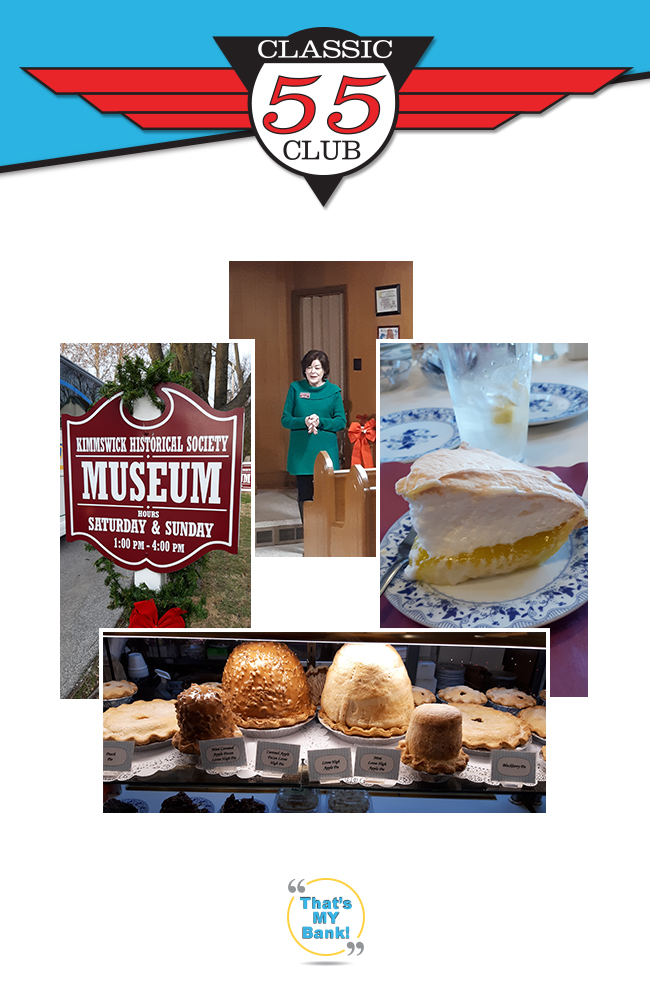 You can see from the photos above that our members love to have a good time when they travel.  When traveling with us you can sit back and enjoy your time with friends!  We always offer a comfortable motor coach that drops you off and picks you up at the door.  We work with some of the best tour companies in St. Louis to provide you with interesting and fun trips.

If you haven't checked out the Classic 55 Club travel schedule for the remainder of 2020 you should!  We have trips that appeal to all travelers.  Whether it is a Broadway-style production, a day trip to St. Louis or a multiple night trip to see the fall colors in Indiana – I am sure we have some location to fit your travel style! 

There are so many other benefits to a Classic 55 Club membership as well.  Classic 55 Club accounts are interest-bearing and receive free checks. There is no monthly service charges with a $100 daily minimum balance.  

For more information about the Classic 55 Club, stop by the Main Banking Center or call me TODAY at (618) 939-6194 ext. 1131 or direct at (618) 504-2363."

Classic 55 Club Coordinator